I was looking at the EWTN website and noticed amongst their new televion series a new one based upon Anthony DeStafano's book, "A Travel Guide to Heaven."
The book was very important to me ten years ago when my Mom died. In fact, the anniversary of her death was yesterday. I read the book during November 2005, and it helped to bring me through the trauma of her death and what most of my blood "family" was doing to me. It helped me to see through the grief. It wasn't a cure-all, but it was one of the tools I used to cope.
Check the EWTN site for air times in your location.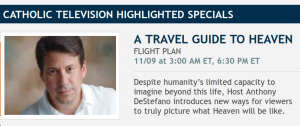 Know someone, perhaps yourself, who might like Catholic devotionals for alcoholics? Please take a look at my books!
(Thank you!!)
"The Recovery Rosary: Reflections for Alcoholics and Addicts"
and
"The Stations of the Cross for Alcoholics"